ASA Maestro online Help
Filter

These options allows you to customize data filtering in grids.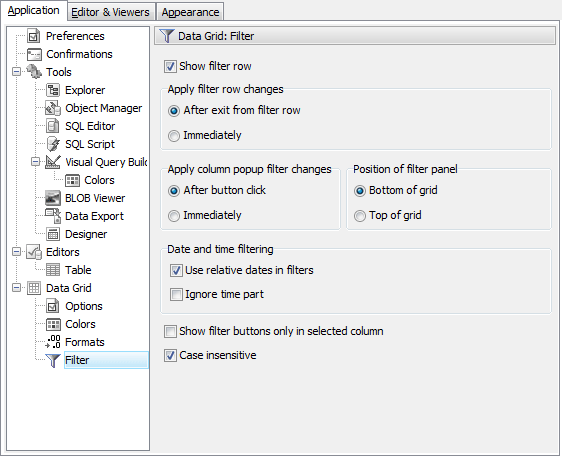 Show filter row
When checked the filter row is always represented in the data grid as an additional row.
Apply filter row changes and Apply column popup filter changes allows you to manage the speed of the data filtering. To speed-up the process select Immediately as the time the filter you are set will be applied.
Change the Position of filter panel and customize timestamp data filtering: check the Use relative dates in filters box to include in column popup filter such options as "Yesterday", "Today", "Tomorrow", "Last 30 day", "Last week", "Next week", and others; check the Ignore time part box to neglect time part of timestamp data under the filtering.
By default filter buttons are shown at all columns header, to show filter button only in selected column, check the corresponding option.
You can specify the case sensitivity of the grid filter with the Case insensitive checkbox (ON by default).