ASA Maestro online Help
Create Function Wizard

Create Function Wizard guides you through the process of creating a new Function. See How To create Function for instructions on running this wizard.

The basic principles of Create Object Wizards in ASA Maestro are covered by the corresponding topic. See below to find the description of wizard steps that are unique to the current object.
Specify the properties for the new Function according to your needs. The detailed description is given below.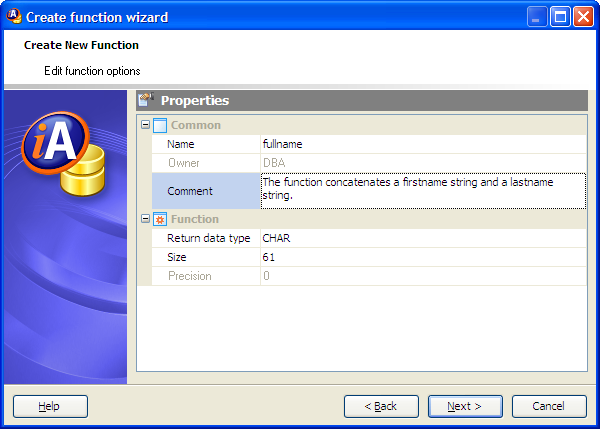 Specifying Function properties
Name
Specify a name for the function.
Owner
The field displays the owner of the new function. By default, only the owner of an object can perform various operations with the object. In order to allow other users to operate it, privileges must be granted. (However, users that have the superuser attribute can always access any object.)
Comment
Supply a comment to the Function if necessary.
Return type
Defines the data type of the function result. You can also adjust here the Size and Precision of the result value.
Managing parameters of a new Function
Use popup menu Add New Parameter... item to add a new parameter and set its properties in Parameter Editor. Use the Edit and Delete items to manage Function parameters.