PostgreSQL PHP Generator online Help
Using Variables

PostgreSQL PHP Generator supports some environment variables (such as CURRENT_USER_ID, CURRENT_USER_NAME, UNIQUE_ID) in both page and application level server-side events.
Retrieving the list of available variables
To obtain a complete list of supported variables, turn ON the "Show environment variables" option in the Project Options dialog, re-generate the code and then open any of produced web pages in the browser.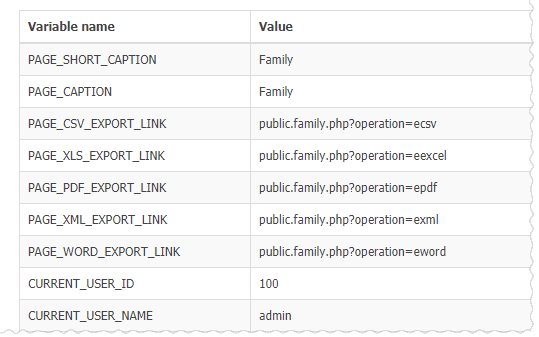 Accessing variable value
To access the value of a variable, use the GetEnvVar method of the Page class.
Example
The following example demonstrates how to use variables within the OnBeforeInsertRecord event handler.
$rowData['ip_address'] = $page->GetEnvVar('REMOTE_ADDR');
$userName = $page->GetEnvVar('CURRENT_USER_NAME');
if ($userName != 'admin')
$rowData['changed_by'] = $userName;
Within server-side page-level events it is also possible to use $this instead of $page.