PostgreSQL Maestro online Help
Database variable properties

Database Variable Editor is the basic PostgreSQL Maestro tool for creation a new database variable or working with existing one. It allows to specify the value of the variable. Several options can be specified for the database variable that govern the expected behavior of the database system.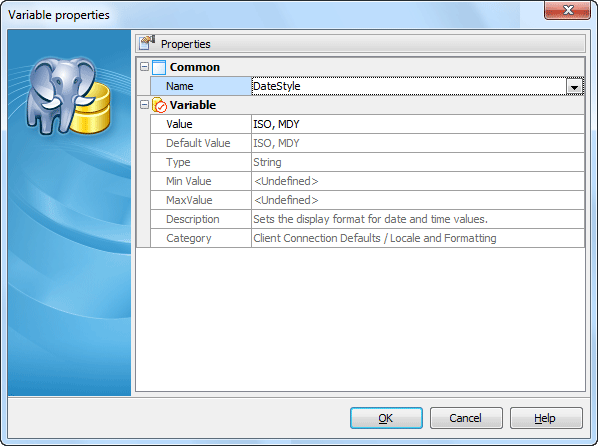 The Properties tab allows you to view variable parameters and to change the database variable value.
Name
Displays the database variable name.
The Value represents the current value of the variable.
Default Value
The Default clause specifies a default value for columns of the variable data type.
The Type represents the underlying data type for the variable.
The Max Value and the Min Value contains the maximum and the minimum value for the variable.
Description contains a comment to the variable.
To apply the changes, select the Apply Changes item in the Navigation bar or use Ctrl+F9 or Ctrl+F7 shortcut keys.
It is also possible to modify object properties without opening the object editor: use the Object Properties item of the popup menu of the selected object from the explorer tree.