PostgreSQL Maestro online Help
Create Type Wizard (Composite and Enum Types)

Create Composite Type Wizard and Create Enum Type Wizard allows you to add a new schema composite type or enum type respectively.
The basic principles of Create Object Wizards in PostgreSQL Maestro are explained in a separate topic. Below you will find a description of wizard steps that are unique for the current object.
Type properties
Owner
Defines the owner of the new composite type. By default, only the owner of an object can perform various operations with the object. In order to allow other users to operate it, privileges must be granted. (However, users that have the superuser attribute can always access any object.)
Comment
The box allows you to set optional text to describe the new composite type.
Type subitems
On the next step the wizards allow you to set fields of composite types and values of enum types accordingly:
Composite type field list
Specify options for fields of the new composite type. Click the Add button at the tab area to add a new field and set its properties in Field Editor. The fields are available for editing and reordering with the corresponding popup menu items.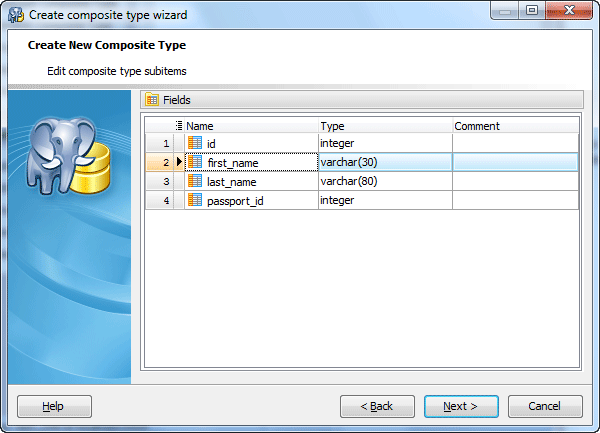 Enum type value list
Add values to the new enum type. Click the Add button at the tab area to add a new value and enter it to the corresponding window. Each of which must be less than 64 in a standard PostgreSQL build.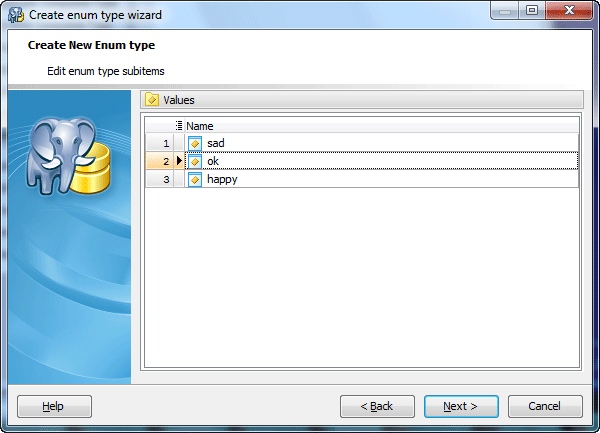 Click Next when you have added all the type options.