Oracle Maestro online help
Editing synonym properties

Public Synonym Editor provides you with an ability to edit synonym properties fast and easy.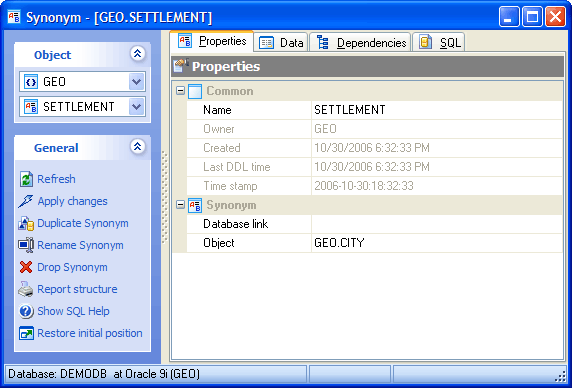 Name
Here you can view and change the public synonym name.
Owner
The field displays the owner of the public synonym.
Created
The field displays the date the object was created.
Last DDL time
Use the field to find the date when the last data definition language (DDL) operation was performed on the current object. The Last DDL time can help you to find if any changes to the object definitions have been made on or after a specific time.
Database link
Here you can edit a synonym database link on a remote database where the referencing object is located.
Object
Select the object for the synonym from a drop-down list.
To apply the changes, select the Apply Changes item in the Navigation bar or use Ctrl+F9 or Ctrl+F7 shortcut keys.
It is also possible to modify object properties without opening the object editor: use the Object Properties item of the popup menu of the selected object from the explorer tree.