Oracle Maestro online help
Object Manager

Object Manager is a tool for operating on database objects designed as an extension of the Database Explorer with advanced features, such as multiple selecting of objects (for copying, dropping, etc.) and the ability of using drag-and-drop operations between Object Manager and Database Explorer as well as between two instances of the Object Manager. To open Object Manager select the Object | Object Manager main menu item.
Note: At least one connection to a database should be established to make Object Manager available.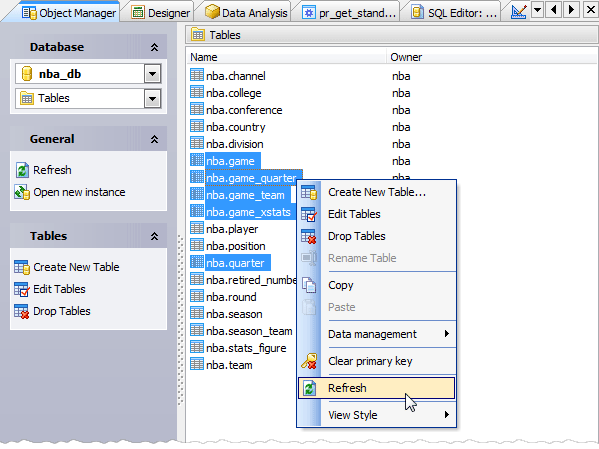 Using popup menu
The popup menu of Object Manager may have different content depending on the current selection. The common menu items allow you to switch the object list view between four standard modes (large icons, small icons, list and report), refresh the current view, and select all the objects in the view. If none of objects are currently selected, other menu items are unavailable to use, except of the one for creating a new object. If one or more objects are selected, clipboard operations (such as copy and paste) become available as well as the items for editing and dropping selected object(s). If the current object type of the Object Manager is "Tables", the Empty Table(s) menu item is also available.
Multiple selecting of database objects
Object Manager allows you to operate on several objects at a time. You have an opportunity to select a batch of objects and after the object group is selected, you can operate on it (e.g. drop several objects at once) as if it were a single object.
See also: Object Browser