Oracle Data Sync online Help
Export comparison results

Oracle Data Sync allows to save results of data comparison to any of 18 available formats including Excel, HTML, XML, and CSV. To invoke the corresponding wizard, use the Export results... button at the right side of data differences view window.
1. First, select the format of files the comparison report to be saved to.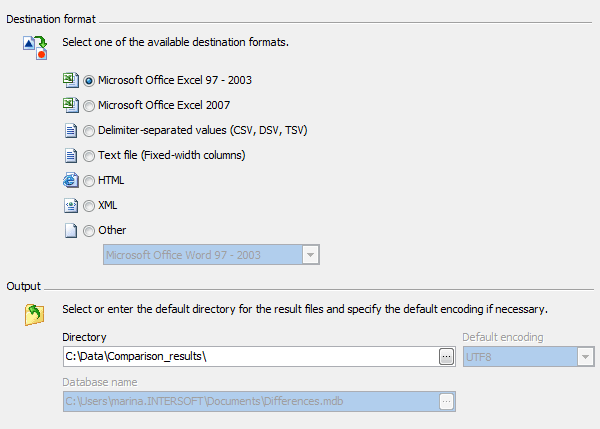 2. Select table pairs the report to be generated for and specify file names the report to be saved to.
3. Specify whether the file will contain all according records or only a first specified number.
4. Set the comparison results to be exported: source only rows, target only rows, different rows, or identical ones. For each type of comparison result a separate file will be generated (if the result set is not empty). So if you specified 'sales.xlsx' as the name of file the report to be saved to, select all comparison results and all of them is not empty, four files will be generated at the specified directory:
sales_source_only.xlsx
sales_target_only.xlsx
sales_modified.xlsx
sales_identical.xlsx