PHP Generator for MySQL online Help
View controls

The View options define the way the column data is displayed on List, View, Print and Export pages.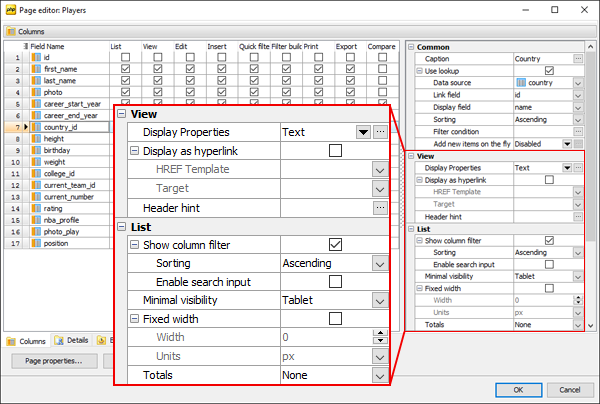 Display properties
Select the control to be used to represent column data from the drop-down list. Available controls are as follows:
To set the format to be applied to the column data such as text alignment, image size, and so on, use the dialog opened by the ellipsis button. By default, the format is the same as it is set at the Project options.
Along with available formatting options you can specify any property you want using the Custom attributes option. This option allows you to specify the content of standard HTML style tag applied to the column data.
The Null Label property allows you to customize the representation of NULL values at the column level.
To implement a conditional data formatting, use the OnCustomDrawRow or OnExtendedCustomDrawRow events.
Display as hyperlink
To represent the column's data as hyperlink, check the Display as hyperlink option and specify the HREF Template. Target controls where the new document is displayed when a user follows the link.
| | |
| --- | --- |
| _blank | opens the new document in a new window. |
| _parent | is used in the situation where a frameset file is nested inside another frameset file. A link in one of the inner frameset documents which uses "_parent" will load the new document where the inner frameset file had been. |
| _self | puts the new document in the same window and frame as the current document. "_self" works the same as if you had not used TARGET at all. |
| _top | loads the linked document in the topmost frame... that is, the new page fills the entire window. |
Header hint
Use this field to specify the the column caption's hint. By default, it is a comment to the table/view column.