Data Wizard for MySQL online help
Lookup options

ASP.NET Generator supports lookup options. If you take two tables which are linked by a master-detail relation, you can enable lookup options for the field which represents the foreign key. Bringing the IDs stored in one table field into correlation with the names stored in another table allows the target html page to contain all the correlated data. As a result, while working with the site you will only need to select the required names instead of entering the IDs.
•

Select the foreign table name with data appropriated to the column data in the

List table

drop-down list.
•

Use the

Key field

box to specify the column with the similar data.
•

Select the column with data to appear in the lookup list at the

List field

box
The default lookup options for foreign keys are enabled respectively.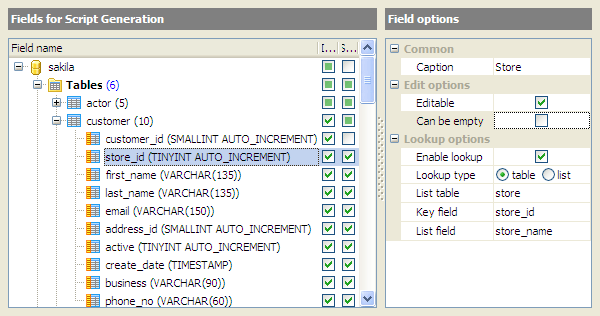 Below you can find a simple example of a script with enabled/disabled lookup options.
Let see the table:
CREATE TABLE customers (
customer_id INTEGER NOT NULL PRIMARY KEY,
customer_name CHAR(30) NOT NULL,
customer_country INTEGER NOT NULL,
)
The next table contains the data about the customer countries:
CREATE TABLE countries (
country_id INTEGER NOT NULL PRIMARY KEY,
country_name CHAR(30) NOT NULL,
)
The html appearance of the first table with disabled lookup option is like shown below: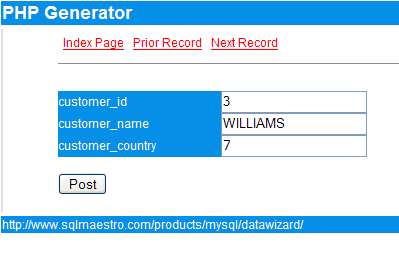 This is the way the result HTML table looks when generated with lookup option enabled in the process of ASP.NET generation: