MS SQL Maestro online Help
Setting format-specific options

Each format supposes corresponding additional export options. Use the wizard option to adjust export properties depending on the target file format you have selected earlier. The following formats are at your disposal: Microsoft Excel, Microsoft Excel 2007, CSV, Text, HTML, XML, Microsoft Word, Microsoft Word 2007, Microsoft Access, OpenDocument Spreadsheet, OpenDocument Text, DBF, PDF, RTF, DIF, SYLK, and LaTeX.
The Data Format tab contains general options, which allow you to adjust the format for each kind of Excel cells. This means that you can specify such parameters as font, borders, filling color and method, etc. for each entity (such as data field, header, footer, caption, data, hyperlink and so on) separately. Also it is possible to create styles to make target Excel file be striped by columns or rows (the Styles tab).
The Extensions tab provides a possibility to add hyperlinks and notes to any cell of target file. Click the Plus button to add a new hyperlink or note to target Excel sheet and adjust its parameters. Click the Minus button to delete added hyperlink or note.
The Advanced tab allows you to define page header, page footer and title for target Excel sheet.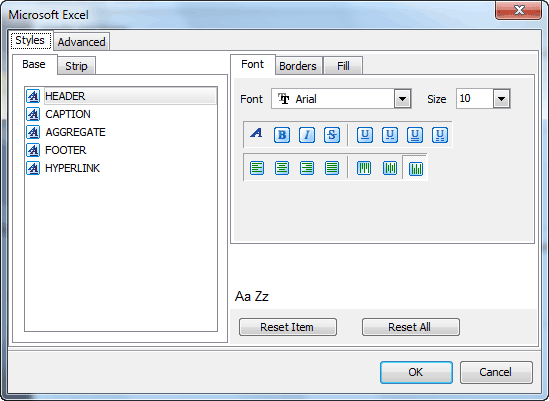 The Preview tab allows you to select the style of HTML file from a number of built-in templates provided by the Templates combo box. You can choose any of these templates, customize it by clicking on objects in the preview panel, and save it as a custom template using the Save template button. Use the Load template button to load previously saved custom templates from hard disk.
The Basic tab allows you to specify basic parameters of target HTML file, such as its title, cascade style sheet options, etc.
The Multi-file tab provides you with a possibility to split target HTML file into several separated files. This tab allows you to specify the record count for a single file, set an option to generate an index HTML file, and add an ability of navigation between each other to each of exported files.
The Advanced tab contains such HTML options as default font, background, cell padding and spacing, etc.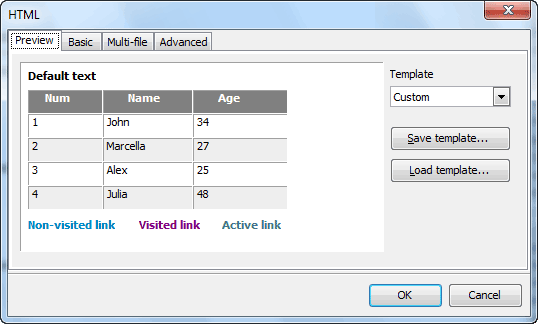 Set the Calculate column width options on if you want each column of target file to be adjusted to the maximum number of characters in it. The Spacing option specifies the number of spaces between columns in the target file.

You can specify column separator and optional values quote character for the target file on this step.

Specify XML document encoding in the Encoding edit box and set the Standalone option on if you wish the target document to be standalone.