MS SQL Maestro online Help
Editing rule properties

Specify rule options according to your needs. The detailed description is given below.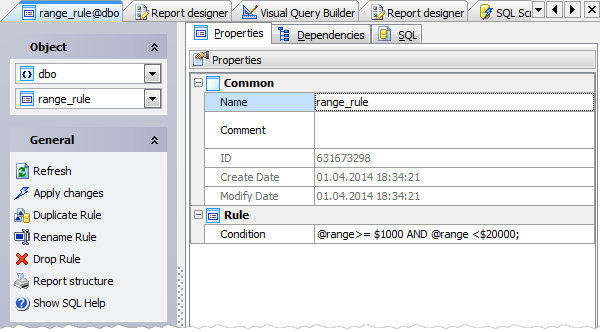 Name
Defines a name for the rule.
Comment
Specify a comment to the rule.
Create Date
Displays the date when the rule was created.
Modify Date
Displays the date when rule was last modified.
Condition
The field represents the condition or conditions that define the rule. As a condition you can use any expression valid in a WHERE clause and which can include elements such as arithmetic operators, relational operators, and predicates (for example, IN, LIKE, BETWEEN).
A rule cannot reference columns or other database objects. Built-in functions that do not reference database objects can be included. User-defined functions cannot be used.
The condition must include one variable. The at sign (@) precedes each local variable. The expression refers to the value entered with the UPDATE or INSERT statement. Any name or symbol can be used to represent the value when creating the rule, but the first character must be the at sign (@).
To apply the changes, select the Apply Changes item in the Navigation bar or use Ctrl+F9 or Ctrl+F7 shortcut keys.
It is also possible to modify object properties without opening the object editor: use the Object Properties item of the popup menu of the selected object from the explorer tree.