MS SQL Data Wizard online Help
Customizing common options

All data sources and target tables are specified on previous steps, it's time to define the import process.
Logging
Use this option to be informed about all the actions occurred during the import. The log file name may contain current timestamp with the %ts:TIMESTAMP_FORMAT% string.
Examples of valid log file names:
dbname_import_%ts:yyyy_mm_dd%.log
import_%ts:yyyy_mm_dd_hh_mm%_mysql.log
%ts:yyyy_mm_dd_hh_mm_ss%.log
Email notification
To send a log file as an email attachment after each import process or in case of an occurred error, specify settings of email(s) to be sent: parameters of your SMTP server, email addresses, subject and body text.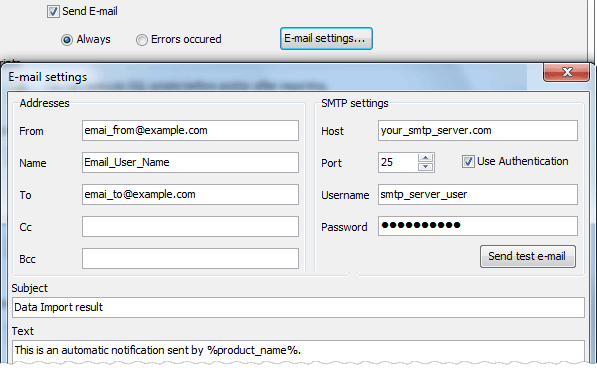 Scripts
There are many cases where the import process is necessary to correct with additional scripts. So to disable table indexes before the importing, specify the corresponding scripts to be executed before and after the process.
The typical example of usage of the Before each table and After each table scripts is the import data to autoincrement columns of several tables. In this case it's neseccary to set the corresponding scripts:
SET IDENTITY_INSERT %table_name% ON
and
SET IDENTITY_INSERT %table_name% OFF
to be executed before and after import data to each table correspondingly.
Import mode
If the Update existing records option is turned ON, the records will be either updated or inserted: an UPDATE will be performed when a target row exists in the table and an INSERT is performed when the target row does not exist.
Reorder
MS SQL Data Wizard arranges target tables on import by dependencies to inserted records in the correct order. To reorder target tables manually, follow the corresponding button.