MaxDB Maestro online Help
Checks

A check constraint is the most generic constraint type. It allows you to specify that the value in a certain column must satisfy a Boolean (truth-value) expression.
Check Properties allows you to add a new check constraint or edit an existing one. It is available from Table Editor, or from the corresponding nodes of the explorer tree.
You can find answers on the commonest question about working with indexes here: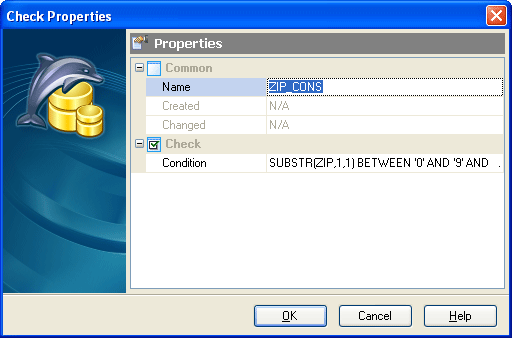 Name
Here you can set and edit the check name.

Note: the name of the object must be unique among all the object names in its container. Moreover, all the objects that are source of data need unique names among themselves. You can use any identifier that is allowed by MaxDB server.
Create Date
Displays the date when the check was created.
Condition
Specify an expression producing a Boolean result which new or updated rows must satisfy for an insert or update operation to succeed. Expressions evaluating to True or Unknown succeed. In case any row of an insert or update operation produce a FALSE result an error exception is raised and the insert or update does not alter the database.