Firebird Maestro online Help
Domain Editor

Domain Editor is opened automatically after a new Domain is created and is available on editing the existing one (see Edit Domain for details).

The basic principles of Object Editors in Firebird Maestro are explained in a separate topic. Below you will find a description of editor tabs that are unique for the current object.
Domain Editor provides you with an ability to edit Domain properties. The Properties tab allows you to change the Domain name, the Domain owner, etc.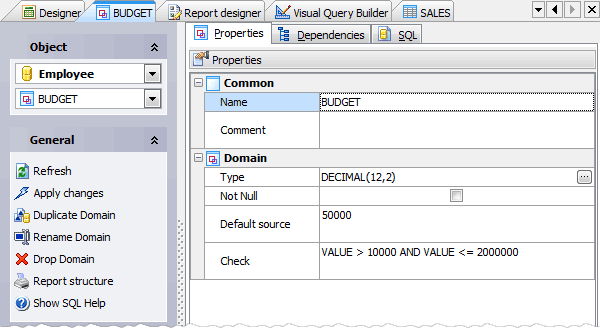 Name
Here you can view and edit the Domain name. The name of the Domain must be unique among all the Domain names in the schema.
Comment
This field stores a comment to the Domain.
Data type
Select the underlying SQL data type for the domain.

Not Null
The checkbox indicates that the values of the Domain are not allowed to be null.
Charset
Define the charset for the CHAR, VARCHAR and BLOB data types.
Collate
Specify a collation sequence for the domain.
Check
Creates a single CHECK constraint for the domain (Check constraint can be like VALUE <operator> value or VALUE [NOT] BETWEEN value AND value, etc.).
Default source
Specifies the default column value that is entered when no other entry is made; possible values are:
literal — inserts a specified string, numeric value, or date value;
NULL — enters a NULL value;
USER — enters the current user name; the column must be of compatible character type to use the default.

Array
The field displays dimension of array.
To apply the changes, select the Apply Changes item in the Navigation bar or use Ctrl+F9 or Ctrl+F7 shortcut keys.
It is also possible to modify object properties without opening the object editor: use the Object Properties item of the popup menu of the selected object from the explorer tree.