DB2 Maestro online Help
Boofer Pools

A buffer pool is associated with a specific table space, thereby allowing control over which data will share the same memory areas for data buffering.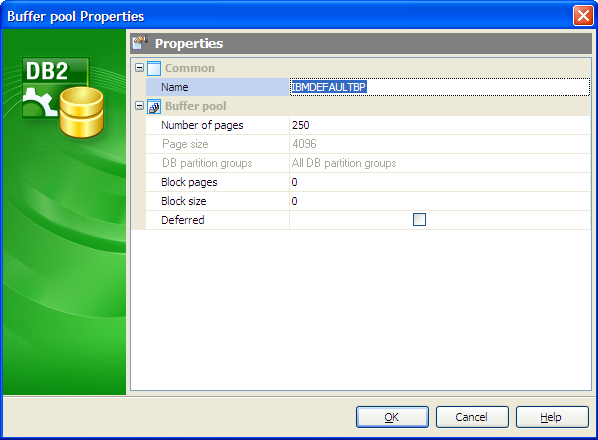 Number of pages
The number of pages for the new buffer pool.
Page size
Specifies the size of the buffer pool. For a partitioned database, this will be the default size for all database partitions on which the buffer pool exists. The default is 1000 pages.
DB partition groups
Identifies the database partition group or groups to which the buffer pool definition applies.
Block pages
Specifies the number of pages that should exist in the block-based area. The number of pages must not be greater than 98 percent of the number of pages for the buffer pool.
Block size
Specifies the number of pages in a block. The block size must be a value between 2 and 256 (SQLSTATE 54053). The default value is 32.
Deffered
If checked the buffer pool will be created when the database is deactivated (all applications need to be disconnected from the database). Reserved memory space is not needed; DB2 will allocate the required memory from the system.