DB2 Code Factory online Help
Exporting diagram image

Diagram Viewer provides an ability to export current diagram to a file as graphical image. This ability is constituted in Export Diagram Wizard which can be invoked by the Export diagram image item of the Navigation Bar.
Select the desired graphical format in the Destination format radio group and specify the file name in the Destination file name box.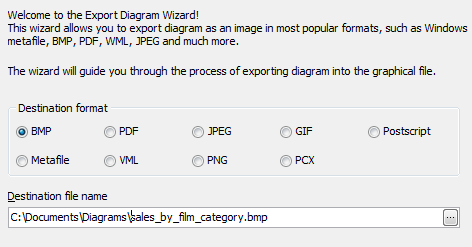 Set the destination width and height by the corresponding spin edits. Check or uncheck the Keep aspect ratio option to keep the image ratio for exported image or not. Check the Open exported image in associated program option to view the image after the export is done.