DB2 Code Factory online Help
Switching between windows

The Window List dialog allows you to switch the child application windows quickly. To open the dialog select the Windows | Window List... item of the main menu or use the Alt+0 hot keys combination.

Most of the windows are linked according to their active databases and displayed in the form of a tree, e.g. Table Editor, SQL Editor, Diagram Viewer, etc. Windows which are common for the entire program are shown as separate nodes of the tree.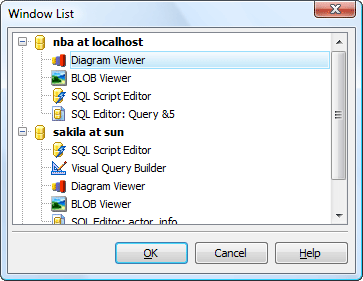 To activate the window you need, select one of the window tree items and click the OK button.