AnySQL Maestro online help
Create Table Wizard

Create Table Wizard guides you through the process of creating a new database table.
The basic principles of Create Object Wizards in AnySQL Maestro are covered by the corresponding topic. See below to find the description of wizard steps that are unique to the current object.
Table options (All fields at this wizard step are optional, i.e. it is not obligatory for you to fill them.)
The field Name contains the name of the table being created as it was set on the previous step.
Comment
Set the optional text to describe the new table.
Adding table subitems
On this step of the wizard you can fullfill the new table with fields, indexes, and foreign keys. To add a new object:
•

Choose the necessary page (

Fields

- to add table fields,

Indexes

- table indexes, and so on);
| | |
| --- | --- |
| • | Follow the corresponding link of the tab's pop-up menu; |
| | |
| --- | --- |
| • | Specify properties of the new object. To find the description of field, foreign key, and index, follow the according link. |
The popup menu of each tab allows to edit, drop, reorder, and rename specified objects, etc.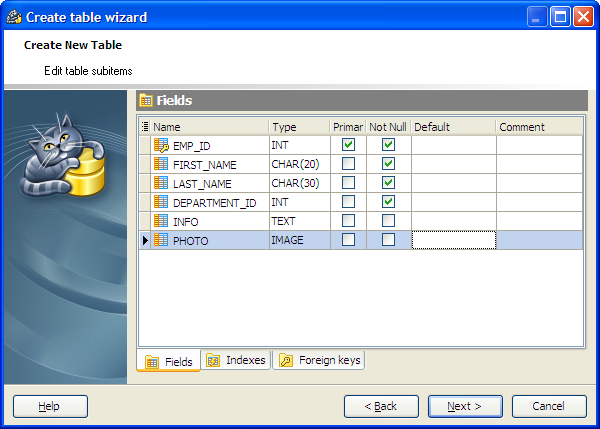 Click Add All or Add to include table(s) to table definition. Use the Remove or Remove All items to exclude table(s) from the list.