MS SQL Maestro online Help
Specifing view options

Specify view options according to your needs. The detailed description is given below.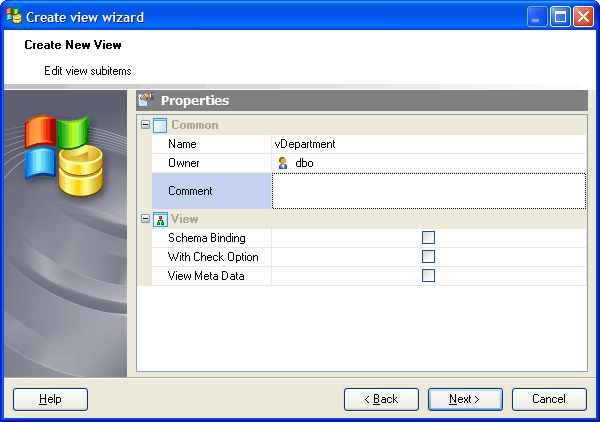 Name
You may specify here the name of the view being created.
Owner
Defines the owner of the new view. By default, only the owner of an object can perform various operations with the object. In order to allow other users to operate it, privileges must be granted. (However, users that have the superuser attribute can always access any object.)
Comment
The box allows you to set optional text describing the view.
Schema Binding
Binds the view to the schema of the underlying table (or tables). If checked, the base table (or tables) cannot be modified in a way that would affect the view definition. All the referenced objects must be in the same database.
With Check Option
Forces all data modification statements executed against the view to follow the criteria set within the select statement. When a row is modified through a view, the With Check option ensures the data remaining visible through the view after the modification is committed. To check the option the owner of the view table must have been granted the INSERT, UPDATE, or DELETE privilege for the view table.
View Meta Data
Specifies that the instance of SQL Server will return to the DB-Library, ODBC, and OLE DB APIs the metadata information about the view, instead of the base table or tables when browse-mode metadata is being requested for a query that references the view. If checked, the browse-mode metadata returns the view name and not the base table names when it describes columns from the view in the result set.