MS SQL Maestro online Help
Setting reference options

Set the Foreign Key Name, select Columns from the Available Fields list to include into the foreign key, select the Foreign Table Name from the drop-down list and its fields from the list to include, set other foreign key properties and apply the changes by clicking the OK button.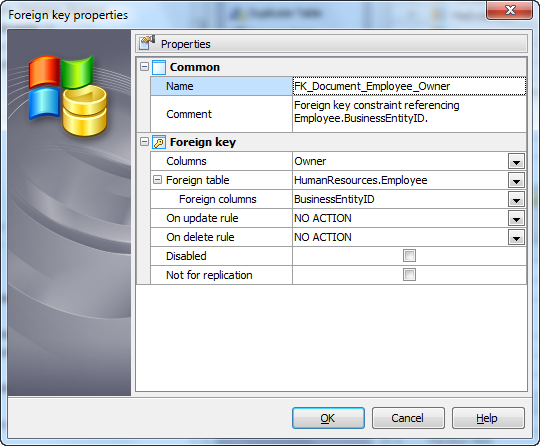 All the fields which are included into the Foreign Key must be included into indexes as well. See Indexes for details.
Comment
The box allows you to set optional text describing the foreign key.
Check Existing Data
Specifies whether the data in the table is or is not validated against a newly added or re-enabled FOREIGN KEY constraint.
Disabled
When checked, disables foreign key.
Set rules ON DELETE and ON UPDATE from the respective drop-down lists.
•

NO ACTION

Produce an error indicating that the deletion or update will create a foreign key constraint violation. If the constraint is deferred this error will be produced at constraint check time if there still exist any referencing rows. This is the default action.
•

CASCADE

Delete any rows referencing the deleted row, or update the value of the referencing column to the new value of the referenced column, respectively.
•

SET NULL

Set the referencing column(s) to null.
•

SET DEFAULT

Set the referencing column(s) to their default values.