SQLite Maestro online Help
Specifying table options

All fields below are optional, i.e. it is not obligatory for you to fill them.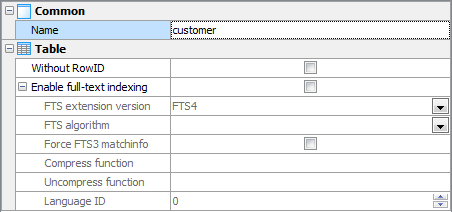 The field Name contains the name of the table being created as it was set on the previous step.
The wizard allows you to create special tables with a built-in full-text index (also known as FTS tables). The full-text index allows the user to efficiently query the database for all rows that contain one or more words, even if the table contains many large documents. On such table creating, three additional system tables ("shadow" tables) will be created. To create a new FTS table supporting a full text search, turn the Enable full-text indexing option ON. Find out more about FTS tables, modules and other such stuff at SQLite documentation.
Note, that FTS "shadow" tables (%_content, %_segdir, etc) are considered as system ones. So, to get them at the Explorer tree, turn on the Show system tables option in the Edit Database Profile dialog.
Select the FTS extension version. The differences between F3 and F4 are described in the appropriate section.
Select FTS tokenizer as FTS algorithm. An FTS tokenizer is a set of rules for extracting terms from a document or basic FTS full-text query. There are two types of FTS tokenizers: simple and porter. If the tokenizer have not been set, simple one is used. Full description of the both types may be found at the corresponding topic.
If the Force FTS3 matchinfo box is checked, some of the extra information stored by FTS4 is omitted. This reduces the amount of disk space consumed by an FTS4 table until it is almost the same as the amount that would be used by the equivalent FTS3 table, but also means that the data accessed by passing the 'l' flag to the matchinfo() function is not available. The matchinfo function provides the user with metrics that may be useful for filtering or sorting query results according to relevance.
For FTS4 tables specify the compress and uncompress functions to store data in the database in a compressed form.
The Language ID option causes the FTS4 table to have an additional hidden integer column that identifies the language of the text contained in each row. The use of the languageid option allows the same FTS4 table to hold text in multiple languages or scripts, each with different tokenizer rules, and to query each language independently of the others.