PostgreSQL Maestro online Help
Membership and environment

The wizard step allows you to define the new role members, to specify roles the role being made is a member of and to add new role customized variables. To add necessary objects, select the appropriate tab and use the pop-up menu.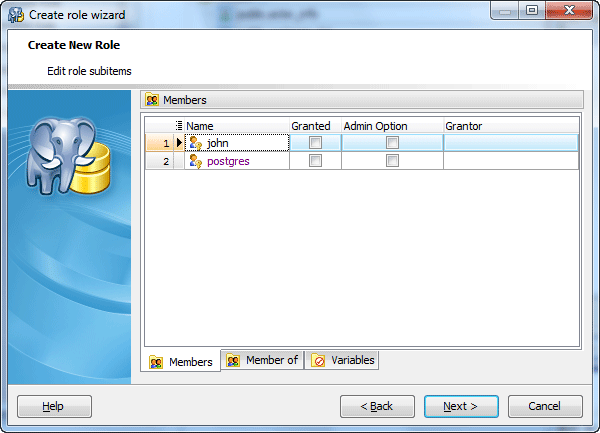 Members
Specify here one or more existing roles which are automatically added as members of the new role. (This in effect makes the new role a "group".) Admin option gives to the role the right to grant membership in this role to others. If Grant option is specified, the current role may in turn grant it to others. Without a grant option, the recipient cannot do that. Grant options cannot be granted to PUBLIC.
Members of
The tab lists one or more existing roles to which the new role will be immediately added as a new member. (Note that there is no option to add the new role as an administrator; use a separate checkbox to assign it.)
Variables
Set this role's session defaults for the specified configuration parameters to the given value.