Oracle Maestro online help
Specifying options

Specify view options according to your needs. The detailed description is given below.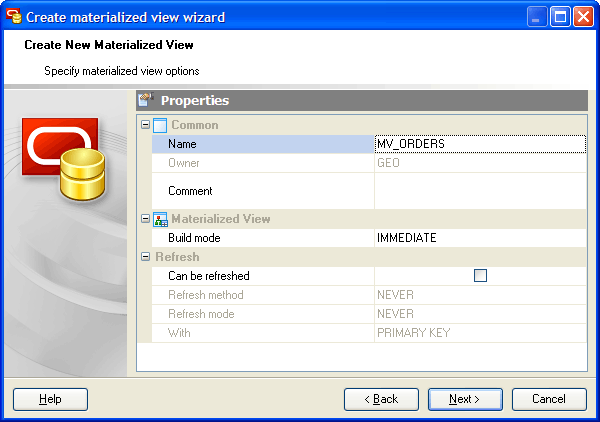 Name
The field contains the new materialized view name as it was set on the previous step.
Owner
Defines the owner for the procedure.
Comment
Use the field to describe the view or laeve it blank.
Build mode (IMMEDIATE, DEFFERED)
Specify IMMEDIATE to indicate that the materialized view is to be populated immediately. Otherwise, the materialized view is to be populated by the next refresh operation. The first (deferred) refresh must always be a complete refresh.

Can be refreshed
Use the option to permit the materialized view refresh.
Refresh method (FORCE, FAST, COMPLETE, NEVER)
Specify FORCE to indicate that when a refresh occurs, Oracle Database will perform a fast refresh if one is possible or a complete refresh otherwise. If you do not specify a refresh method (FAST, COMPLETE, or FORCE), then FORCE is the default. Specify FAST to indicate the incremental refresh method, which performs the refresh according to the changes that have occurred to the master tables. Specify COMPLETE to indicate the complete refresh method, which is implemented by executing the defining query of the materialized view. If you request a complete refresh, then Oracle Database performs a complete refresh even if a fast refresh is possible.
Refresh mode (ON DEMAND, ON COMMIT, NEVER)
Specify ON DEMAND to indicate that the materialized view will be refreshed on demand by calling one of the three DBMS_MVIEW refresh procedures. Specify ON COMMIT to indicate that a fast refresh is to occur whenever the database commits a transaction that operates on a master table of the materialized view. This clause may increase the time taken to complete the commit, because the database performs the refresh operation as part of the commit process. The clause is not supported for materialized views containing object types.
With (PRIMARY KEY, ROWID)
Specify PRIMARY KEY to create a primary key materialized view. This is the default and should be used in all cases except those described for ROWID. Primary key materialized views allow materialized view master tables to be reorganized without affecting the eligibility of the materialized view for fast refresh. The master table must contain an enabled primary key constraint. Specify ROWID to create a rowid materialized view. Rowid materialized views are useful if the materialized view does not include all primary key columns of the master tables.