Service Center for MySQL online help
Using Service Center agent

MySQL Service Center allows you to execute tasks by schedule in background mode using MySQL Service Center agent. When you exit from MySQL Service Center at first time, you can choose either to exit the application completely or to minimize the application to system tray and keep the scheduler in active state. If you have got at least one task or scenario, which should be executed by schedule, it is recommended not to exit from application completely, but choose the option to minimize MySQL Service Center to system tray. In this case, MySQL Service Center agent remains active and all the scheduled tasks and scenarios will be executed at specified time in background mode.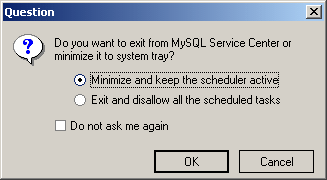 Check the
Run agent at system startup
option to launch MySQL Service Center agent during Windows startup.