MS SQL PHP Generator online Help
Table-based authorization

Setting a table-based authorization means to allow user access to the generated scripts according to grants stored in a Microsoft SQL table. The user login information is stored in a Microsoft SQL table too. The tables may be prepared earlier or created within PHP Generator.

If the table with login information exists,
specify it's name as Users table and the columns with user names and passwords to be used for authentication as Login field and Password field and set the user ID field. To use encrypted passwords, select the corresponding encryption algorithm in the Password encryption field from the list of available algotithms (MD5, SHA1, PHPass algorithm, SHA246, and Crypt) or enter the necessary hash algorithm to be used for the password encryption.
If the table with login information does not exist,
click the Create new table... button to set the name of a table to be created and its column names.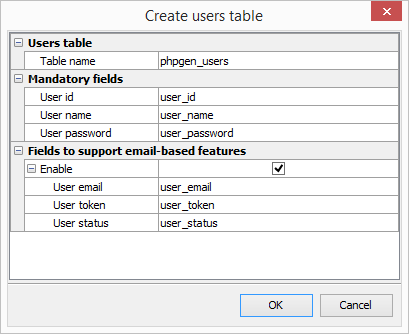 Now the table is ready to use. You can enter the login info using any available Microsoft SQL management tool, such as Microsoft SQL Maestro.
The checked Enable guest access option allows users those names are not stored in the table to work with generated script.
By default all users of result application have SELECT, UPDATE, INSERT, and DELETE permissions. You can restrict their permissions with the Permissions manager.
To allow the record-level security at the generated application, specify User ID.